Tach! - Greetz from Homebase Berlin.
Visiting the Hillbillies.


Days are short, twenty-four hours the Lord gave us and they are over so fast. Work eats most of them, you sit at the desk, trying to cope with difficult tasks carrying the tongue in the corner of your mouth. Bad weather all summer long, waiting for a sunny day, and now forecasts predict rain but the day is shiny, people talk about autumn and dew lies on the lawn, evenings are getting chilly, beergardens are deserted. We are waiting the mozzies to realize that their time is up.
[] Bernburg/Köthen/Halle / Toosdaye, 28 August 2007
Ferryboat Route 1.


Since the dam has been built it is very easy to enter the magic islands by train, bus or even by car. At the bus terminal I decide not to walk through the tight alleys this time but to take the slow ferryboat of route number 1 on Canale Grande from Piazzale Roma at the terminal over to Lido island. Passing the old palaces that allegedly turn their best faces towards the canal the boat underpasses Rialto bridge, passes Santa Maria della Salute church, with its cupola currently covered in scaffolding pipes, to Saint Marcus Square where I jump off to take some pictures being a good tourist.
Then I wait on the shaky ponton bus stop for the next boat to Lido island which is a barrier to Venice from Adria and boasts a long stretch of beach with luxury hotels like Excelsior or Hotel des Bains and small beach houses you can relax in watching the day go by.
As I let some sun onto my upper body my glasses slip out of the pocket of my shirt - my sacrifice to Venice. After a fruitless search in the sand of the beach I take the ferryboat back to where I had started, work is waiting for me.
[] Venezia / Wednesday, 15 August 2007
After Sunset in Venice.

[] Venezia / Tuesday, 14 August 2007
Submerged.


I had used one day approaching the south-eastern part of the dried-up river bed, to be exact, the City of Arts and Sciences.
At the outer end you have L' Oceanogràfic with the Who-is-who of marine life being held mostly in underwater aquariums.
The next building up the former river is Museu de les Ciències, as named in Valencian. The white carcass could have been a space ship hangar before. L' Hemisfèric, surrounded by pools may be this spaceship, or an electric armadillo with oyster genes. Beside the two another sprawling carcass houses a Titanic exposition. At the end of this modern river city, separated by a bridge, the Palau de las Arts, a architectural mix of a chubby spaceship and fishmouth frog ready to jump a la Starship Troopers, depending from where you look at it. Although there still is work ongoing the area already is center of attraction and counterpart to the old city.
[] Valencia / Wednesday, 18 July 2007
Warmed up.


Even a certain italian airline could not prevent me from arriving in sunny Valencia. What a great experience after weeks and weeks of dark Berlin weather!
Valencia is the third-largest spanish city with its outskirts touching mediterranean sea easily reached by the metro tram. The beach is wide and quite busy on weekends, shady places are a scarce. Well fried you can head for Gran Via, the quarter where the cosy restaurants wait. At normal dinner time, about eleven-thirty it is hard to get a free table.
After that you may want to head for the discotheques by the America's Cup team quarters.
At daytime you should stroll through the old quarter with its cathedral and the other churches, the market hall and plenty of museums. Beer bars and Cafés invite for a rest. In the dried river bed surrounding the old city the City of Arts and Sciences is growing. Although the area is not too wide, a northerner like me better seeks the shade of trees and buildings to avoid unexpected heatstrokes.
[] Valencia / Wednesday, 18 July 2007
Padova - Between Two Showers - Flashback.


We take the unpredictable weather with us from Krakow to Italy, you can hardly call it summer, blue sky would produce much better pictures, still I go for sme experiments in the backyard between two rain showers.
[] Berlin / Friday, 06 July 2007
Life in Poland - Flashback.


The others are still fast asleep when I put on my shorts and thongs and steal myself out of the room. The long jeans and shoes I hang out to dry since they got pretty wet on last evenings adventure.
Sun already warms me up as I wander through the wet grass up the hill in the outskirts of Zakopane. The small creatures, insects and others, voraciously drink the tiny dew droplets that cover the plants. If available they spread their wings to dry and warm up, so many of them are too drowsy to flee from me and I can take some hundred close-ups, others are hard to catch. The dew has almost disappeared as I go back down where the guys wait to have breakfast.
[] Berlin / Thursday, 28 June 2007
Sandsation 2007.


Why this guy doesn't write about this Venice trip?? Jeez! Coz no want! He more likes to report about the sand from around Berlin piled up beside the main train station in Berlin that is put in shape by busy artists from around the world. But the clouds coming from southern direction today become darker and darker, lightning flashes show in a distance. On command the people cover their delicate artwork, price ceremony is planned for the afternoon, but the wind plays with the plastic foil fooling the artists. We as spectators flee from the starting rain into the train station having a relaxing lunch while the guys out there fear for their work of weeks. We withdraw and won't hear about the end of the story.
[] Berlin / Wenzday, 21 June 2007
City Hopping.


The weekend near Krakow for a wedding celebration became two weeks unexpectedly. My two travelling companions roll their eyes in view of the thousands of pictures I took again. There is so much to be seen and life is so short! And I really don't feel like sitting in front of the laptop to report this voyage... have some patience please.
Just that much: Krakow has become sevenhundredfifty, Zakopane in Tatra Mountains overflows from tourists at weekends, Padova is pretty small and Venice well visited.
[] Berlin / Monday, 18 June 2007
Look who's crawling!


I have to get to the steppe regularly, call me Humboldt, to check evolution of flora and fauna. Scratchy bushes, withered and brown in last autumn, woody, shrivelled stumps and tiny stunted plants, snow covered in winter, are sprouting and it's humming and buzzing, rustling and hissing everywhere - if one listenes carefully. Actually, it is not a rainforest where you can barely hear you own voice because of natures terror. Here things grow and copulate in a more restrained manner. One sits comfy on a flower, nibbles at it, does some bump and grind, as long as the plants still grow since spring is about to lose against summer in their arm wrestling. The river gets tame again, rain a scarce and the sun brutal.
Shady rock spurs are rare at noon, when I finally found one I was fizzed at by a frightened saurian - no worries about me, people more cautious than me are dead! - after being flashed it ran and hid somewhere else. Only little later I met another fella trying to loot a bird's nest in a thorny bush, the parents-to-be wouldn't stop cursing and by my sheer presence I meshed with the way nature's things go just as we know it from today's news reporting and the predator withdrew. You can' just observe, the object would be influenced. Well, no-one involved started cried it's eyes out for the camera, though. And again it was confirmed that the days in shitty Parand are not boring at all...
[] Steppe Parand / Friday, 11 May 2007
News From Parand.


Below Parand, the blooming metropolis in the outskirts of Iran's capital, an unparalleled nature and leisure park is being built.



On friday, when I set out for my walk sun was already close to its zenith. At time of writing this the impact of its solarization have eased but still my memories are streaked with the golden radiation.



Again, below the city that keeps creeping towards the riverbed a giant mountain is built from excavated earth. Dump trucks empty their loads on the plateau until the size planned has been reached. Then the mountain will be baked into a rock with the help of the atom (sic!) and will resemble the original Uluru if they were Tweedledum and Tweedledee. That even may attract Australians since their aboriginals see their rock as a holy place and the ghosts living there are disturbed by tourists as we know. Here there are no ghosts.



At the bottom of the coming monolith the Urinoco (or Po, the name was not finally agreed on yet) is hollowing out its imposing bed competing with Grand Cañon shortly. At present pace of colonization the shape will be formed within this year. The viewing platform is said to be under construction.



The river's source is the same as the source of the river that is never freezing up although it may sound far-fetched from the geographic point of view. Where the Urinoco ends is clear - unlike itself, it flows into the salty river (nothing else does Rud-e-Shur mean), unfortunately too far downstream of the most popular spots to delight picnicers and swimmers with its color and aroma. And really, I followed its course since I felt some connection, the stream must have carried something coming from me but I couldn't think of what it was.



Further downstream where the cañon had transformed into a broad plain bed I found a place where a large-scale picnic must have been held. The society must have left the place hastily, loads of china piled up here. Very elaborate pieces were among it, gold ornamented and hand painted tableware. If I wasn't fully equipped I would have made use of it, so I left it all behind.



Even further towards the Rud-e-Shur river I came across the invitingly shimmering Peepeecaca Lake, surprisingly I was all alone here. The wading birds - wagtails? didn't see any tail down there! - screamed nervously, I tried to shoot them with the camera but they kept distance.



Now I walked upstream through the alluvial soil of the salty river towards the bridges. The pleasantly cool melt water was clear as a frappeé. Here people washed their cars, wool and all that had come into their mind, using the time the water being that clear. I relaxed a while underneath the old road bridge watching the children in mind and in age playing. I didn't know by then how the sun would knock me out later.



From here one has a good view of the other mountain in erection being piled up further upstream. Another Uluru? Or a Popocacapekl? Representing the latter the top would be still missing. Let's wait and see. Now my water bottle was empty and I dragged myself back to the apartment to finish the day ailing. Only at the next day I really felt what damage the power of the sun had done. Note: let the sunshine in your heart but cover your head.
[] Parand/Rud-e-Shur / Friday, 04 May 2007
Of Mineral Water Falls and Bazaar Roofs.


On thursday I had taken a day off and accepted Mr Ali's proposal to go to Niasar. In the area blessed with mineral water springs especially roses are grown and their blossoms are deprived of their essences. Then the stuff is dissolved in water to sell it in bottles. I have tried but it's not my taste, I rather like mint water but there are millions of tastes available.
Niasar on weekdays might be a peaceful stretch of land with refreshing climate but now thousands of busses stuffed with university students blocked the roads. The waterfall is the main attraction here and all those who can walk thrust their way up and down the narrow alleys and stairs. The water squeezed into a tight canal bursts out wherever possible and it is hard to make it to that Shah's summer house on the hilltop with dry feet.
There I met a group of students from Esfahan and went down with them into a narrow meditation cave dug a long time ago. There you can only stand upright at certain points, the tunnels you have to pass crooked, small ladders lead up and down the levels, the air was hot and wet from exhaled air. Finally one of the girls got a fit of claustrophobia and we had to crawl back to surface. Climbing the Char Taghi Temple of Zoroastrian - meaning pre-islamic - origin after that turned out to be a little easier.
Mr Ali's wife had marinated some chicken so we fired the grill in a quiet orchard and put the spits on the roast. Then I had to eat more than I had wanted.
Now we headed for Kashan, known to the attentive reader already for its stately homes. What I had not yet seen was the bazaar. The bustle eased up now, many stores were closing their shutters, the sun sank and we climbed up a steep staircase to the roof still thatched with clay. Looking inside imposing domed halls in bad condition could be seen.
Since I rather opted for sleeping in my bed we did not spend the night in the tent Mr Ali had in the boot. So we headed for Parand, as always.
[] Niasar/Kashan / Thursday, 04. Mai 2007
Grab The Swim Trunks.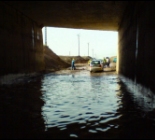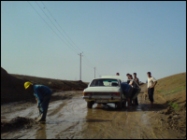 Springtime is the time for heavy rain showers and obviously for roadworks a la Iran. For weeks now the virgin strip of black asphalt waits to be connected to the country road but the machines remain silent and no worker is around. This morning we found the underpass of the highway submerged knee-deep under mud-brown water. Days before it had been dredged. The caterpillar now filled its bucket and put the broth into another flat pool. Not all cars have survived the crossing. And further we go on the mud path like every day, carwashing makes no sense at all and even my driver has given up cursing about the daily madness.
[] Niruga Parand / Monday, 30 April 2007
On The Highway.

[] Tehran/Parand / Monday, 23 April 2007
Hailstorm, Snowmelt, Green Lung.


Final skiing day before summer? It began rainy when we climbed up the mountains and dove into the clouds, sight was short and at the ski rental in Dizin the cars were piling, they simply couldn't make it onto the parking lot through the new snow's mud. We looked at each other - what to do? Only for some seconds the sun broke through and the hail storm stopped, piste and ski lift became visible for a moment. We were standing there for a while and then decided to go back down, circling around the abyss-like potholes passing cut-through avalanches and the torrential river people were picknicking by, went against the traffic flow actually towards sunny Tehran, had lunch and a long stroll and a nap in green Mellat Park, a good coffee break afterwards and rode back to our blooming steppe at a gentle pace.
[] Dizin/Tehran / Friday, 13 April 2007
Friday, Down By The River.

[] Rud-e-Shur / Good Friday, 06 April 2007
Full Throttle Spring Time.

[] Steppe Parand / Wednesday, 04 April 2007
Industrial Sentimentality.

[] Niruga Parand / Friday, 29 March 2007
Off The Wall.


Frightening Procedures - Introduction To All The Vicious Games
My poker face doesn't show but I don't feel much better than the other travellers, in the end I am not one of these scolded frequent travellers blowing up our atmosphere. For more than seven months I haven't seen a plane from inside!
I can feel the shudder going through the people around me, at least I think so, guess I can feel in their hectic eye movements the anticipation to leave their clinging country, the angst something might intervene as well as the strain to hide all that. It takes ages for the family before me at the check-in, I am done in a minute. Although I don't have to hand over that white form this atmosphere affects me as well. At the gate I can finally come down watching Alborz and Damavand drowning in Tehran smog.
Why am I doing this to myself?! It wasn't my idea, I was actually caught by surprise and now I am about to board the plane to Dubai for a five days short vacation. I neither take stock in this wacky emirate nor in breaking out of my daily grind. But, well, let's go.

Fast Cuts - From Wadi To Night Life
After less than two hours we are landing, hesitatingly the head scarfs disappear. From hotel we stroll the neighborhood since the first beer isn't served before six. Then amazingly red wine and beer stands on my restaurant table and the first check of emirates' liberality is done, only at three in the morning places will be closed. Waking up after a short night's sleep, the breakfast buffet won't wait. Then window shopping in the hottest malls on earth - tiring and boring in times of globalisation. Dinner in the largest synthetic and most costly genuinely restored never-seen-before show bazaar with built-in hotel named Souk Madinat Jumeirah. A terrific view over illuminated dummy windtowers towards the sail with the heli-pad. After that we dive into Dubai's night life and make up leeway.
Is it the half hour time gap or simply sleep deprivation that makes me weak? Next morning we board our rental car and go searching for Hatta Rock Pools far out of town but with no map since out of stock is a common phrase here. We go round in circles so much that we get dizzy. At least the wadi is there right beside us and we go on testing the utilities of the vehicle on rubble and in water, small challenges included. On the way back we take a break at Hatta Fort Hotel, easily you would forget all the stress here. A tour through the skyscraper canyons and off we go to indulge in local night life again.

Desert Has Gone - Far Away
After breakfast we decide to crucify the car for another day and prepare to plow the desert. Alas, first we have to get out of the moloch! At least an hour we sit in thick traffic being normal in Dubai these days. But when we are finally spat out of it we have the beach right infront of us. So we sit in the shade and watch the few bikinis around for a while before resuming the search for a fine piece of sandy land.
But where has the desert gone? The civilisation eats its way deeper and deeper into the countryside that we only by incident find an access to free dunes. But now the other two wheels are activated and Go! On our ride we see a caravan of these all-inclusive tours but they flee hastily.
At a dromedar farm we stop taking some pictures from all the babies. On the way back bad traffic again - how big is this desert implant planned to grow? Now it is weekend - government has changed the off-days to friday and saturday - and at retort souk hell is loose. Waiting time for a table in one of the many restaurants is about fourty-five minutes. Luckily we find the only place where no alcohol is served virtually empty. The local Trader-Vics, well-known from Bahrain as nicely decorated but white-bread-boring isn't good enuff for us, we move to other places. Last night breaks out.

Why Do All Good Thing Come To An End?!
I oversleep last breakfast and pack my bag. Happy I am that we are through and need some vacation. When boarding the plane the girls look so normal, only when leaving the world gets back to its grey, daddy is close to heart attack, only out of there without any trouble. Bleak mullah republic - we are back, Parand, we are coming. Now to catch up on sleep but still keep the memories alive.
[] Dubai / Froidaye, 23 March 2007
A New Start.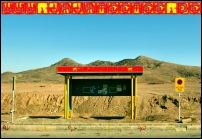 It seems the has not finally decided about the course but direction is clear: summer is approaching in our mountain valley. Mercury is climbing to twenty celsius, the winter jacket will now be washed and can dry for some months. It is the right time to fix the air-con pipes broken in winter, the heating stays off and the raspy brown drink is swallowed without pre-heating. The anticipated final day has disappeared into far future and again my motto Don't halloo till you're out of the wood! proved right. A tiny light shines for me though but only after it is blown out I will go into details. Stay tuned!
The whole country prepares for Irani New Year, fifteen days off in a row! Two days ago Parand felt like our New Year's celebrations, luckily the stock of fireworks was gone early, still in some places old rituals like jumping over bonfires took place. Tehran is all empty now and people use the time to wreck their relatives nerves.
[] Parand / Froidaye, 16 March 2007
Steppe Is Blossoming.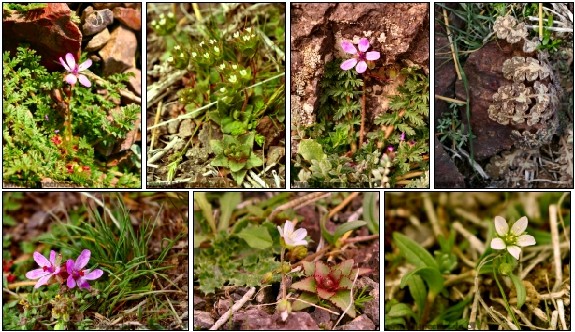 [] Steppe Parand / Froidaye, 09 March 2007
Ski heil.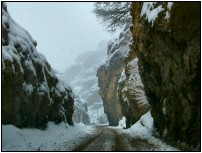 Grey and rainy the morning starts, no motivation to get up on a day off, but I've had enough of salty desert adventures and want to hit a snow plow before it would be too late. Eventually, Damavand's white robe shows dark stain strips already.
When passing Tehran and climbing up the road into Alborz mountains the baran changes into barf but sun still is missing. The guy on the orange truck grits the road like the fishermen on Capri do in the old German pop song and we tend to doubt in our mission seeing the cars packed with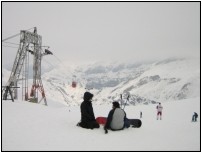 skiers and barfboards going towards instead of with us.
The mountain roads are scattered with potholes as deep as a meter and the barf cover raises the comfort a little. Just as we reach the end of the cleared road we can see why many skiers had passed us: no snow chains at hand. Fairly proud Mo puts the brand-new shiny German chains on and off we go, leaving the nitwits on summer tires behind. The new barf came as a surprise, obviously.
Jokingly we tease Mo again asking to join us skiing, he is scarcely loath to do so and that comes as a surprise to us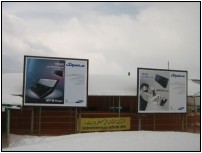 now. He even tries on ski shoes and conjuring up a ski trousers!
The piste lies in clouds, without shades a mere white wall we go into. I have had neclected my training for quite a while and my fitness is in doubt. It goes on barfing but we are not alone here today, though. Down in the valley the clouds rip open and blue sky shines through. We start sweating.
The pistes are not cleaned that fast and I tirelessly train how to plunge into deep snow. Mo does the first down hill rides of his young life. Everybody's happy as can be. World swings.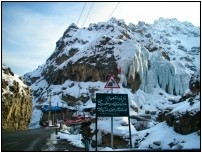 Up and down we go, not too far up where the clouds are stuck and at half three we have enough of that, going back to the car where Mo is already trying to defreeze the car's hand brake. On the way back we have to go slalom around the huge potholes, now that the sun had melted to barf away, even recently fallen rocks scatter the road sides. And more and more often a feeling comes up saying that I have nothing to tell about anymore.
We are passing a frozen waterfall and stop for Mo to change brake pads by the road again but that is nothing new to us.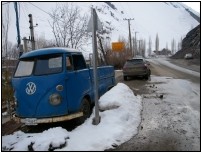 Thanks to the light traffic it doesn't take us too long to get back to our steppe hamlet.
Now we take care of my mellow salads from the recent party but we have surrender before we explode. My face starts tickling from the very first light sun burn and we prepare some drinks to have a relaxed evening in my home cinema.
[] Dizin / Friday, 02 March 2007
Salty Field Excercises.
Passing withered saltcucumber trees and drained salt herring breeding pools we rumble along the gravel road through the salt desert. Again we aim the salt lake, this time not with shying Mo but a rental four wheeler. The rain has wrecked the piste and the hired driver takes it very slow that the way feels much longer than last time. But eventually we reach Maranjab caravanserai - tout le monde is here! - and have a picknick by the pool.
And then finally we head for the lake. Still you could pick flowers driving by if there were any, puddles of saltwater on the dirty-white surface make the driver slowing further down. A passing trucker gives us a sign to speed up though. Like a mata morgana the white salt hills shimmer a long way off, when we get closer they knit back together. Two trucks have just been loaded and leave as we approach, only the loader stands there wainting. We climb on the white mountains crusted from rain and watch other salt trucks dashing along.
The driver drives us mad, he wants to go home. Back on dry mainland the water on the car body dries up to a hard shell that would corrode the car soon, so we refrain from complaining about the sudden gathering of speed, although the target again is named: Parand.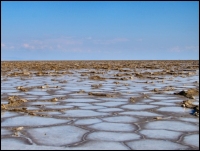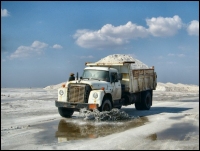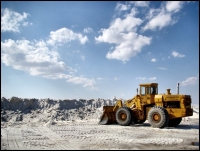 [] Salt lake Namak / Friday, 23 February 2007
Steppe Is Waking Up.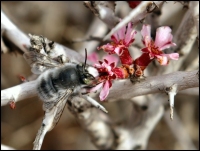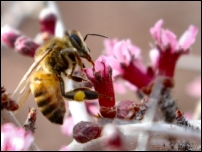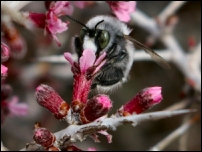 In our hamlet the youngsters throw crackers like on december 29, barely one month to go for New Year! In the steppe gunfire resounds through the hills, teenager gangs are roaming the terrain. I find tiny flowers and the first almond bush blossoming, just as I unpack the camera wild bees and humble-bees come flying, put their noses deep into the pink chocolate boxes, quarreling and shoving each other, a busy humming and buzzing all over the place - is spring knocking?
[] Steppe Parand / Froidaye, 16 February 2007
Where The Bottles Are Circulating.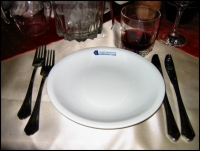 The others are laughing at me when I ask them to avoid drawing attention on us as we pour the self-made grape juice into the carafes supplied. At the neighboring table Red Label und Absolut are circulating! All women are topless! Topsy-turvy world at Armenian Club.
To find the nondescript gate and then to pass the doorman are the tasks, entry for muslims forbidden by governmental order. Inside an old-fashioned restaurant with fabric wallpaper and soft lights, a live singer with a keyboard grinding sad songs about far-away Yerewan. Salt is not used much in the kitchen and Armenian specials are hard to find on the menu. Only the sight of women without any hejab disturbing the view at long hair is confusing to us. Shall we come back here with a bottle of whisky?
[] Teheran / Wensdaye, 14 February 2007
Mud And Sodium Sulphate.
So the day was spoilt before the trip had even begun! That was how it appeared when we were stuck in the smeary mud of Kavir salt desert. And the travel guide was to blame! I had lead Mr Ali off the main path because it had seemed more dry to me. To think of the off-roader Mr Ali had promised to organize was no help now, neither dreaming of girls in light clothes catching in the mud. Even the two cooperative guys passing on their moped couldn't help it. So Mr Ali rode with them to the nearest village finding a tow truck.
The older man in his pick-up finally managed to pull our yellow taxi out of the sticky mud and we continued on our way towards a place named Ghaleye Baghram, a caravanserai as I had thought. Only some kilometers later we were stopped by the army at the gate to the National Park due to a manoeuvre taking place. So we took a rest in the middle of nowhere for a picknick, cherishing the clean air and the absence of all man-made noise.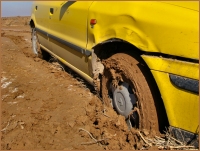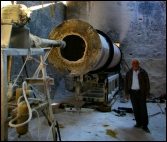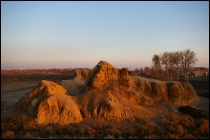 On the way back we again passed a long clay wall and Mr Ali stopped at the gate of these premises asking for access and for the German engineers to have a look. Soon we were showed around spotting piles of white sacks and rocks, with the explanations in Farsi not so easy to get behind. Then Mr Hassan shows up surprisingly fluent in German since having studied in Germany before the Islamic Revolution. It's sodium sulphate what they are producing here with cheap laborer from Afghanistan under stone-age conditions. And again it is China beating all prices so that Mr Hassan had started raising cattle. We were invited having a tea and it's getting late when we said goodbye. On the way home we stopped at the eroded city walls of Ghal-e-Irage, the last reminder of the settlement forming a giant quadrangle. And then the sun had set showing us: time to get back to inevitable Parand!
[] Kavir, the salt desert / Froidaye, 09 February 2007
Parand - Green Living.
Once upon a time, while they wrote the year twothousandsiggs in the western hemisphere and I aleady had sweated parts of my mother tongue off due to the sun hammering down from the blue sky mercilessly, at that time I was helplessly brooding about a nasty poem dispraising the hamlet I used to live in. I racked my brains for days and weeks, ran up and down and round and round in my room to find the appropriate words but that hicksville was virtually free of any characteristic feature that I didn't even find enough swear-words for it. I was not able to finish the poem and the papers yellowed underneath my couch table.
Then after months the friday came when I was wandering the outskirds of Parand finding a blossoming suburb under construction. How unfair I had treated the promising metropolis to come! I almost went down to my knees saying sorry but the road was too dirty. So I devoutly strode away from the future paradise and burned all papers and thoughts of a blasphemous poem - for the time being.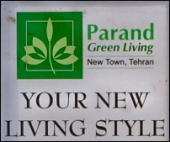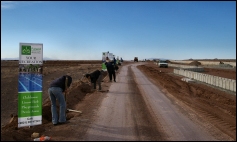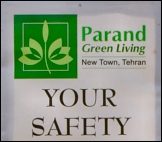 [] Parand / Wensdaye, 07 February 2007
Down in Alluvium.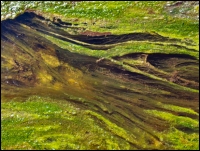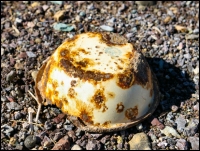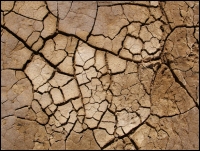 The wide valley of the Rud-e-Shur river looks like a rubbish tip. If these thoughtless bastards think of anything at all they might hope that the next flood will take it all away but the river is just a thin stream. The wide valley is covered with reed, I have to cross it on the single-track railway bridge for dry feet's sake. Downstream, towards the sheep dogs ready to lacerate me, the Parand refuse incineration yard keeps smoking day and night causing a scratchy feeling in the throat.
[] Parand, Rud-e-Shur / Froidaye, 02 February 2007
Eat Out.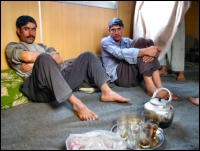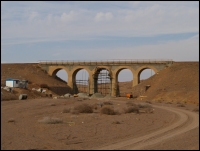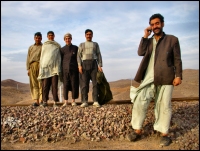 On my long walk towards the river Rud-e-Shur I passed the Tehran - Esfahan railway with its viaducts. I have had taken my picture and had turned away already after greeting the workers shortly when the foreman called me to come back and having a tea with them. Well, three hours walking in the steppe had made me thirsty so I accepted the invitation.
At two-thirty they would call it a day and came into the tin hut sharing the tea with me. Our common vocabulary was limited to my few scraps of Farsi, the foreman's unintelligible Tankyouverymotch and his Давай-Ќак дела-Хорошо. They were from Afghanistan, they said, marching down towards Qom and Esfahan bridge by bridge.
After a short while one of the five prepared a soup and it was handed out to all to break lots of bread into. Actually, that was what I had needed then. The least I could do was giving my mobile to the foreman for a call to Tehran when he asked for it. Still a vague feeling of fear remained in my head, what desires such a tourist must have waken in poor souls like these. But unharmed I made my way back to our shanty Parand after expressing my gratitude to the hospitable bunch.
[] Steppe Parand / Friday, 12 January 2007
Roads clear!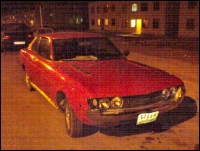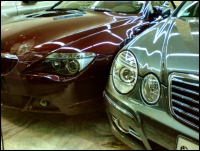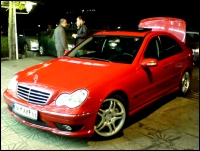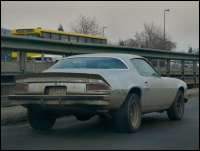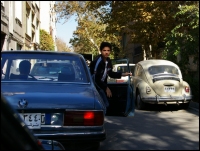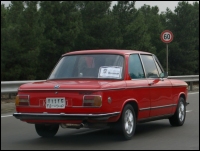 The car enthusiasts among my colleagues keep complaining about the monotonous road sight dominated by the inevitable Paykan and this Irani Peugeot of the same spreading. One has to take a closer look to find the few others being either older than the Islamic Revolution or posh German state-of-the-art vehicles. A favorite also are the fake German license plates to be put underneath the real ones.
[] Parand/Teheran / Wednesday, 10 January 2007
In The Backyards Of The Silk Road.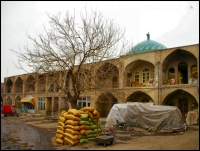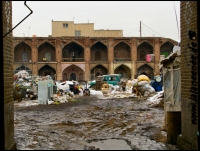 A grey day in Qazvin, about onehundredfifty kilometers west of Tehran. The place, though being a former capital of Persia, boasts of uninspired post-modern architecture and visible ignorance of the rich past. Surprisingly the bazaar is busy that day, some kind of flea market draws the crowd into the main alley, all the other alleys are deserted though. And there at the periphery the huge old caravanserais - motel and storage post in one - lie, in different condition. One, named after a man called Haji Reza, serves as a refuse dump while another still is in traditional business. Their domed entrance halls tower above the rotten bazaar neighborhood.
After throwing an eye into the Nabi Mosque and another one into a subterranian hammam we are fed up of this depressing town - is the weather to blame? The travel bible lists some more interesting sights but after a lavish meal we are ready to turn back to our steppe hole.
[] Qazvin / Friday, 05 January 2007
Downwards On New Year's Eve.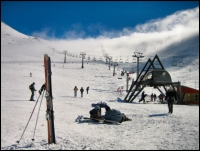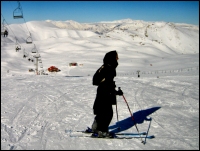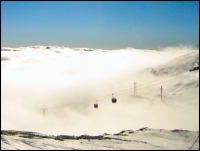 Whatta f___ing lazy bastard I am not caring for my beloved english speaking readers for ages! They've all been bursting into tears every time being here, I guess.
Well, after a really strange New Year's gathering only three of us went to have a nice day in the mountains skiing. The weather up there was purrfact - apart from some chilling clouds passing the piste. Although I felt quite comfy with the slope and all it got boring after a few times and the damn lift stopped at least three times every time we went back up. So it came as a gift when we were told that the lift guys would call it a day at 2pm. We then went to town for a coffee and an iranian strudel before shopping for a pair of ski pants to finish with this worn-out corduroy trousers I used to wear when skiing. Well, in the end we had to return to our chilly steppe hamlet - as usual - grrrr!
[] Tochal / Mundaye, 01. January 2007
…go here to have a look back further into the past.